FIND US ON SUNDAY, THE 11TH OF OCTOBER 2015, IN BLACKBUSHE
We aim to re-launch in London N9 towards the end of October.
You will see our newly designed food wagon on the 11th of October 2015 for the first time since our exit from Nags Head Indoor Market in London. Times and
location t.b.c.
Last week, our food trailer 'underwent' a makeover. The picture; Sometimes you'll have to negotiate a small difference in height, but even people with vertigo love to work here.
The new coat for our 'can' was designed using our in-house desk-top equipment and the artwork sent off to get the new 510g heavy banner, measuring 7 x 3 square meters, produced. The banner was produced by jajabo.de and shipped to England within seven days.
Fitted to the 'can' the old image of the Giant Coca Cola Can became 'a thing of the past' and the new image of Rainer's Bavarian Grill's Giant Tree Can emerged: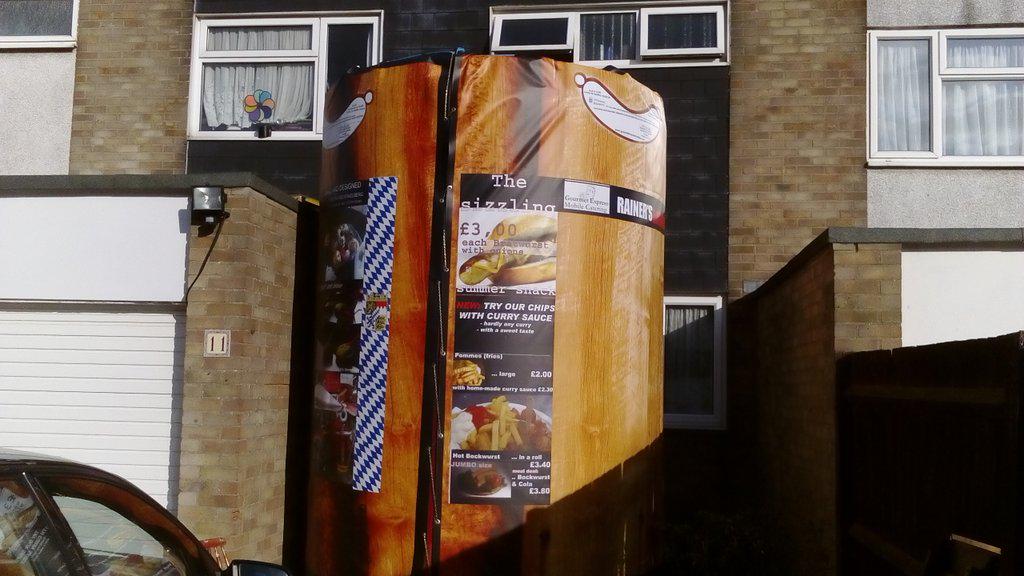 We feel the result is stunning, brighter and more tailor-made, to create a perfect corporate image for Gourmet Express Mobile Catering's mobile unit number one.
The finishing touches are under way but this takes time as we are expected to attend a two-day-exhibition event at Royal Victoria Dock, London…more info
To celebrate our 5th anniversary this year, we have introduced a few new Gourmet Express menus and we hope everyone will be able to find something suitable.
Please come and see what we've done, we feel certain you will like the results.
Regina and Stefan